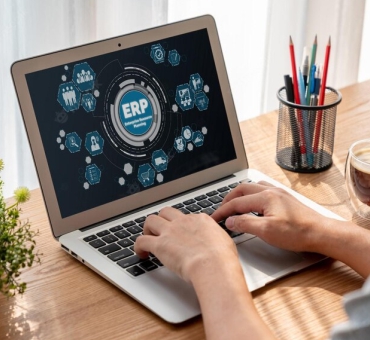 Products
Introduction to ERP
ERP's full form is Enterprise Resource Planning. As a part of its basic functionality, ERP software integrates various functions of a business or organization, such as inventory, accounting, order management, customer relationship management, human resources etc. into one coherent system to streamline information and processes across the whole organization.

ERP software also provides a certain degree of simultaneous reporting and automation. Instead of making employees maintain distinct databases and spreadsheets that have to be combined manually to generate reports, SNVA's ERP solution allows staff to generate reports from one system. For example, since the sales orders immediately register on the financial system without any manual intervention, the order processing department can process orders more speedily and accurately, and the finance department can wind up the books faster. Other features of our ERP include a dashboard to enable employees to rapidly understand the business' performance on key points and metrics.

SNVA's ERP services
Expert ERP Implementations - We implement your customized networks, security, servers, and data management solutions for your entire organization while maintaining data integrity and incurring little or no downtime. Our developers integrate the new platform with your business in a seamless and cost-effective manner.
Seamless Data Migrations - Our team of highly skilled developers upgrade legacy systems while maintaining data integrity when migrating legacy data, modernizing the data infrastructure, merging raw data silos, and exposing the data landscape. We include the benefits of data governance, data modeling, and efficiency in a rock-solid data migration process.
Custom ERP Development – At SNVA, we build customized functionality in fresh off the shelf ERP software to meet your unique business requirements. We can bring automation to workflows or BPA (Business Process Automation), modify solutions, sychronize data imports and exports and develop extensions by creating custom modules in order to create a dynamic platform that performs flawlessly for your business.
Tailored Solutions - We customize ERP solutions to create improved, global-scale, enterprise-wide ERP systems to automate crucial processes and derive key data insights across mobile, web-based, and on-premise platforms providing real-time access to mission critical data.
Effective Integration Services - We utilize the centralized architecture of your chosen business IT environment to ensure the extensibility of your business by propagating real-time data automation between systems.
ERP System Configurations - We configure the ERP software with business intelligence, specific roles, modifications, fields, enhancement of interfaces, and more. Our configurations guarantee that each new role is in an optimal setting for gaining a competitive edge against other corporate players.
ERP Administration Services – We keep a tab on the system configuration (both front-end and back-end) for errors, for the overall support of technical infrastructure, and for potential enhancements. We also troubleshoot system issues, provide Security administration, Help Desk support, Database backup, and handle communications, maintenance schedules, and more..
ERP System Upgrades – Our team of expert developers release upgrades to provide better support to older software programs and boost business. We analyze the system's current state, if any upgrades are required, and any technology gaps that may require customization and testing to establish the upgraded version's functions according to the client's demands.
Customizable Dashboards - Our ERP services include tailor-making the design of your chosen ERP's Service Oriented Architectures (SOA) and develop rock-solid platforms for decision support, predictive analytics, KPI tracking, executive dashboards, performance scorecards, and more.
Expert ERP Consultants - We evaluate your current business environment to pinpoint incompatibilities of different systems and develop strategies to migrate and integrate mission critical ERP software into a comprehensive infrastructure.
Powerful Reporting - Our highly experienced developers program customized reporting features for real-time queries to derive data-driven reports with data visualization of business objects through a multitude of graphs and charting styles.
Introduction to CRM
The main purpose of CRM (Customer Relationship Management) software is to enable companies to handle their relationships with customers and to drive business value. The first function of CRM is to drive profit by assisting companies by effectively tracking their relationship with current and future customers. It can include any or all customer-targeted processes in a company, such as marketing, sales, and technical support. Our effective CRM strategy includes a whole range of activities such as product design and customer-centric services. It also relies on functioning software capable of tracking, automating, and organizing communication with customers.


Features of SNVA's CRM offerings
Flexible Security and Access Permissions – Our excellent CRM system ensures the security of data, but it also permits the right users to access the required information. We have an obvious way of permitting specific users access which doesn't compromise data security.
Our CRM software helps clients by effectively collecting information about product support and partner support. This improves the management of the customer experience as our CRM software codifies information about when, why, where, how etc. the customer was unhappy with a service or product. It also maintains a record of whether an issue was addressed and how an issue was addressed.
Billing and Invoicing Functionality - Our well-equipped CRM system can track and monitor billing and invoicing status of all customers. It always maintains a proper organization of all the financial information and also regularly reviews things such as timeliness or frequency of payments.
Hardware monitoring - Our CRM software has hardware monitoring features and provides help with things such as verifying the availability and status of routers, hotspots, and other network paraphernalia. It helps save time which would have been otherwise spent on troubleshooting or managing hardware, leaving more time to interact with customers directly.
Integration with External applications - A central feature of our CRM software is its capability of integration with third-party external applications. We provide features such as persistent document exchange and integration with an enterprise's existing ERP. These features are very important, especially when the aim is to acquire, store, and maintain impeccable customer information.
Data Reporting - Our CRM software creates a flexible and realistic customer database by inputting and organizing customer data. It is truly effective however because it also helps evaluate the existing data. It makes it easy and achievable to identify customer behaviour trends which in turn helps to determine which actions should be taken to improve a customer relationship. Compiling, analyzing, and exporting marketing data or customer billing are all part of our effective CRM software.